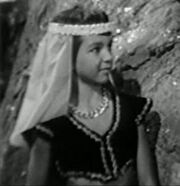 Volaca was the daughter of Zoravac and his Vonsoom. She lived on Fornax with her parents. When Rocky Jones and his crew landed on Fornax, Volaca formed a friendship with Bobby. They shared a cultural exchange and Volaca was able to assist the Earth crew when they were held hostage by Darganto and Griff. She used the Astrophone to contact Rocky Jones aboard the Orbit Jet. She warned him of the circumstances and he was able to save the day.
Appearances
Edit
Ad blocker interference detected!
Wikia is a free-to-use site that makes money from advertising. We have a modified experience for viewers using ad blockers

Wikia is not accessible if you've made further modifications. Remove the custom ad blocker rule(s) and the page will load as expected.