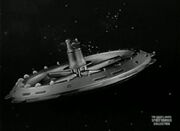 Space Station RV5 was in service to the Office of Space Affairs. It was similar in construction to Space Station OW9. Ranger Higgins was aboard Space Station RV5 when Secretary Drake made the radio announcement that Rocky Jones and crew were missing in action.
Appearances
Edit
Ad blocker interference detected!
Wikia is a free-to-use site that makes money from advertising. We have a modified experience for viewers using ad blockers

Wikia is not accessible if you've made further modifications. Remove the custom ad blocker rule(s) and the page will load as expected.