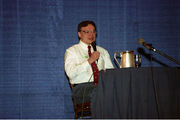 Allan Asherman is a writer and researcher specializing in science fiction. He is the author of several non-fiction books about Star Trek. He wrote two very detailed articles on Rocky Jones, Space Ranger for FilmFax magazine. These articles presented the best research about the series since it was produced.
Ad blocker interference detected!
Wikia is a free-to-use site that makes money from advertising. We have a modified experience for viewers using ad blockers

Wikia is not accessible if you've made further modifications. Remove the custom ad blocker rule(s) and the page will load as expected.